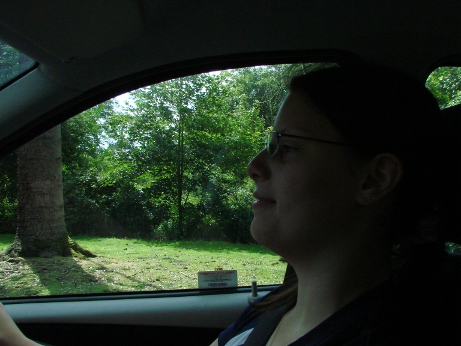 As I was driving home the other day I saw my very first car going past on the other side of the road. This is the second time I've seen it this year, and part of me felt a bit sad again that I no longer own it. I sold it about 5 years ago now, but there is still a small part of me that remembers the fun adventures I had with my little Fiat Punto. I know there are many things that I don't miss about that car (very small engine, all the silly things that went wrong with it etc) but it was my car. It was at a time in my life when that car was the only personal space I had, and I kept it incredibly clean. With the current car that Kieran and I own, that is not possible. We park it under a tree and it doesn't stay clean. That's life really, and I don't have the time (or the height) to wash it as much as I would like.
My little Punto represented a kind of freedom to me. There were all sorts of random road trips with friends, or I could just escape by myself somewhere. Now the car I drive is sensible, and as much as I love how easy to drive it is I still miss the personality of my old Punto. Part of me was pleased to see that it was an older lady driving it very carefully on the other side of the road, and after all this time it still looked pristine. When I think critically about it, I know I'd get very annoyed trying to drive something so small after all this time in a bigger car.
The reason I had to sell my Punto was because Kieran hated it. It had too much personality (it was difficult to drive). You had to balance the clutch and accelerator exactly right or it would stall. In fairness if you looked at it funny it would stall. In some ways I had to let go of that car. It would always have been my car, and never Kieran's. There are many sacrifices I have made for Kieran, and I don't regret any of them. Giving up my car was a way of moving on from the past and all that was represented by it. When I look back, I realise how far I have come from the young girl who first started driving. In some ways I find it kinda scary how much time has passed. In other ways I am proud of myself and Kieran with all that we have come through together.
Who knows how many cars we will have owned when we look back again. Part of me would love to own a nice fast car, but I will always be content with what we have.